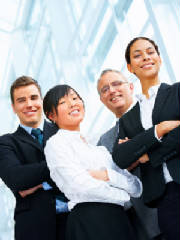 Models for Management uses scientific research and comprehensive instruction so your managers can model their behavior on the proven methods used by great leaders.
Using these management tools, we'll help your managers:
• Incorporate the behavior characteristics of high-achieving leaders
• Identify the gaps in their own leadership style
• Understand the consequences of their behavior in the workplace
• Model their own behavior on proven leadership benchmarks
Specific training programs include:
• Management Values – Expand our effectiveness as managers and leaders.
• Employee Involvement – "Turn On" employees' willingness to work and participate.
• Communication – Communicate to energize the workplace.
• Work Motivation – Boost individual and collective performance by harnessing the motivation powerhouse.
• Empowerment – Use power to improve organizational performance.
• Group Decision Making/Team Building – Transform low-performing groups into triumphant winners.
• Management Style – Understand how well your management style works – and what to do if it doesn't.